Fire Safety with Humberside Fire & Rescue Service
Serious house fires are thankfully quite rare. But if a fire does start, it can quickly cause a lot of damage and put the lives of you and your loved ones in danger.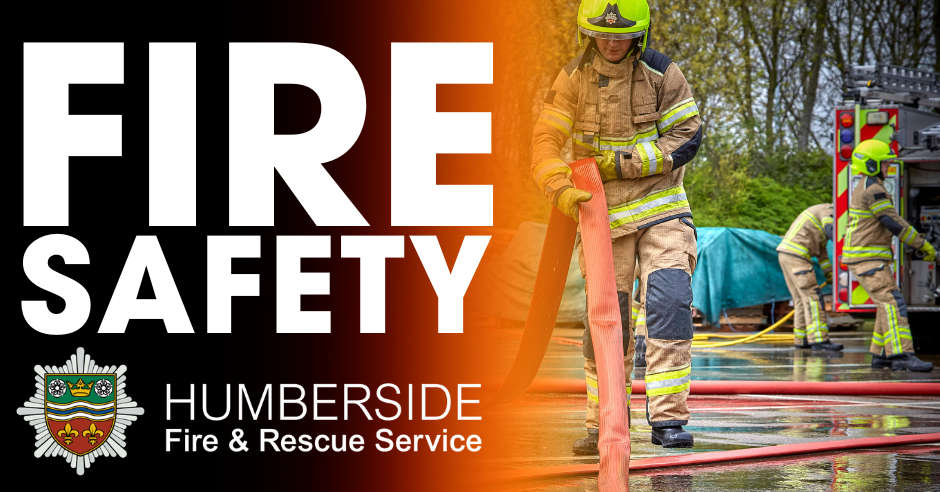 In the upcoming months many will begin preparations for events like Halloween, Bonfire Night, and the festive season. Be sure their top safety tips are part of your planning, so you and your loved ones have a safe and enjoyable time.
Candles, flying lanterns, decorations and decorative lights are a growing cause of fires. It is important to keep safety in mind whenever you use them in and around your home.
By following the guidelines below, you can help keep your home safe from fire.
Prevent
Check your fairy lights are in good working order and replace any bulbs that have blown. Always unplug your lights when you leave the house or when you sleep
Where possible use a surge protection extension cable and only have one item per plug socket to avoid overloading
Make sure cables are long enough to reach, as connecting more than one extension lead together can overload the socket and cause an electrical fault
Keep candles away from anything that could catch fire such as Christmas trees, curtains, cards, ribbons or decorations
Never leave a burning candle unattended and put them out completely before you leave the room or when you sleep. Take extra care to keep candles out of reach small children or pets
If using fireworks always following instructions carefully and never go back to a lit firework, even if it has not gone off as it could still explode
Avoid wearing fancy dress costumes or flowing materials/clothing when cooking or when near a naked flame or heat source. They can very easily catch fire
Plan
Plan your escape route in case of a fire. The best escape route is your usual way in and out of your home. Choose a second escape route in case the first one is blocked
Practice your escape plan with everyone in your household
If you have guests staying share your escape plan with them
Make sure everyone staying knows where the door keys are kept
Keep your escape routes clear
Keep a charged mobile phone with you in case of emergency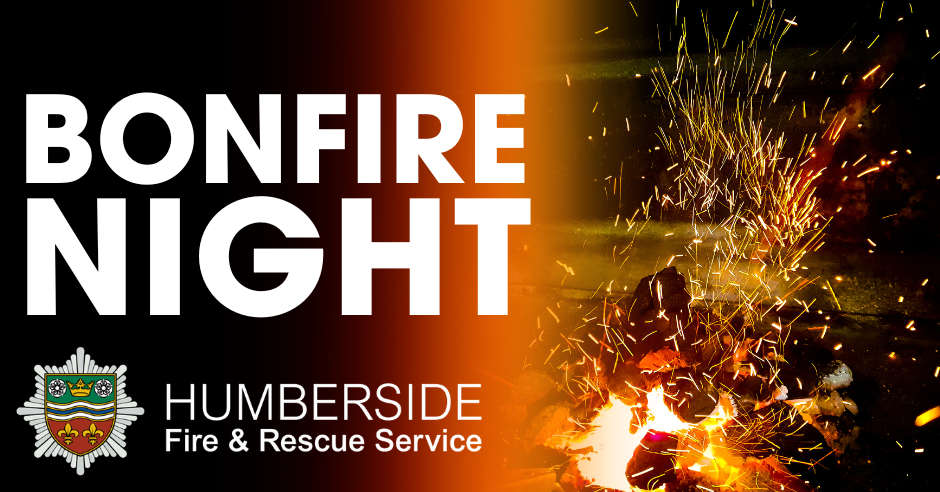 Humberside Fire and Rescue Service is urging residents to be extra vigilant around Bonfire Night to ensure the season goes off with a bang for all the right reasons.
Attending an organised event with a professional firework display is safer and more spectacular, but HFRS wish to make the public aware of the dangers of building their own bonfires.
Bonfire Night should not be viewed as a chance to burn waste or household rubbish. They should be recycled or disposed of using the household collection service or at one of the waste and recycling centres across the region.
Patrols will be working alongside Humberside Police to identify illegal bonfires being built in the run up to Halloween and Bonfire Night itself.
As always, there will be a crackdown on the illegal sale of fireworks. If the public are concerned by rogue suppliers, please contact Trading Standards on 0808 223 1133 or for a fly-tipping concern, then they should ring their local Council on the numbers below:
East Riding of Yorkshire Council – 01482 393939
Hull City Council – 01482 300300
North East Lincolnshire Council – 01472 313131
North Lincolnshire Council – 01724 297000
Fireworks are part of the bonfire night celebrations but if not used properly can be very dangerous. The Service urges residents to follow this safety advice to ensure people's safety:
Only buy fireworks with a CE mark. All reputable dealers will only sell fireworks to this standard
Keep fireworks in a closed box
Follow the instructions on each firework
Light all fireworks at arms length
Stand well back
Never go back to a lit firework
Never throw fireworks
Fireworks should not be let off in the street
Keep pets indoors
Always follow the Firework Code. Print out your own copy from the British Fireworks Association.
Humberside Fire and Rescue Service will be Tweeting safety messages over the Bonfire Night period. Twitter users can follow @HumbersideFire and #HFRSBonfire or visit their Facebook page
A few candles scattered round the room can lend a warm glow to an evening in or add some festive cheer to the season's celebrations such as Guy Fawkes' night, Eid and Christmas.
The most important steps you can take to keep yourself and your loved ones safe include making sure your candles are kept away from flammable materials like curtains and putting out candles when nobody is in the room.
But with over fifty fires started by candles every day, the Fire Kills Campaign is asking people to take extra care with candles this winter.
In 2010, Reckitt Benckiser, manufacturers of Air Wick candles, reported that 70 per cent of annual candle sales were made between September and February. So it's no coincidence that between October and February every year candle-related house fires rise sharply, peaking at more than double the summer average in December.
Never leave candles unattended always put them out when you leave the room
Ensure they are completely extinguished before you go to bed
Always place candles on a stable surface and in a heat resistant holder
Keep the wax pool clear of wick trimmings, matches and debris at all times
Burn candles in a well-ventilated room, but avoid drafts, vents or air currents. This will help prevent rapid or uneven burning, sooting and excessive dripping
Trim the wick to ¼ inch each time before burning. Long or crooked wicks can cause uneven burning, dripping or flaring
Follow the manufacturer's recommendations on burn time and proper use
Don't move candles once they are lit - they can be very hot and be dropped easily
Place candles out of the reach of children and pets
Place candles away from flammable objects (like curtains)
Do not burn several candles close together as this might cause flaring (mainly with tea-lights).
Don't place candles directly on to furniture or around the bath, always place them in a suitable holder
Use a snuffer or a spoon to put out candles. It's safer than blowing them out when sparks can fly.
Residents are reminded to fit smoke alarms on each level of their home and test them regularly. Should a fire break out, a working smoke alarm can give valuable time to escape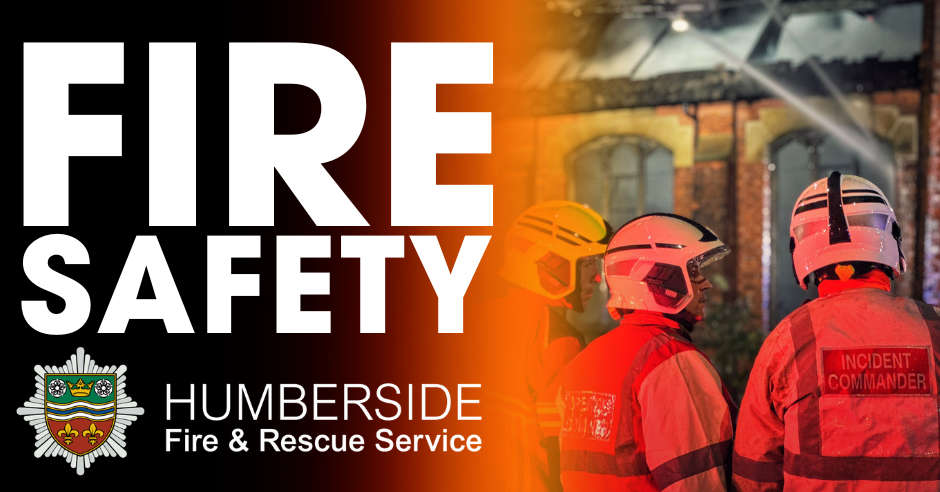 For more information, click here.
Dr Fox

6:00am - 10:00am

Waking Up The Nation

Russ Williams

10:00am - 1:00pm